We are currently accepting payments from Indian bank accounts only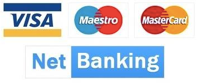 On the occasion of 12th founding year of IIIT-Delhi in September 2020, the institute established 'Alumni Legacy Fund', a corpus fund dedicated to promote education and research among the students of IIITD. The donations collected under the Alumni Legacy Fund will be utilized to support our students through academic scholarships, travel grants, providing laptops, books, and internet infrastructure in these difficult times and more.
No amount of contribution by you will be small or big. What matters is the active support from our donors to help us continue striving for excellence and providing equal opportunities to all our students.
Let us join our hands and create the future together!!