We are currently accepting payments from Indian bank accounts only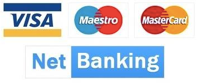 As IIIT-Delhi's campus infrastructure continues to grow, donations to this category will enable the institute to provide a productive environment for students to live, learn, and grow. The funds collected will be utilized in supporting the renovation and maintenance of facilities on the campus to enhance the IIITD experience for students as well as the faculty and staff, improve the lives of students and provide an inspiring platform for innovation and research.
Your contribution will not only help create exciting new facilities, it will also make an incredible impact which will get amplified over the years, with each new generation of students leveraging these benefits. No amount of contribution by you will be small or big. What matters is the active support from our donors to help us continue striving for excellence.