We are currently accepting payments from Indian bank accounts only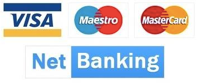 Provide your support towards experiential entrepreneurship activities that will allow IIIT-Delhi students to build ideas, fail, and try again by contributing towards this fund. The donations collected under this category will be used to promote new ventures driven by IIIT-Delhi community, support activities focused on building innovation and entrepreneurship skills in our students such as lectures by eminent speakers, seminars/symposiums and other activities.
No amount of contribution by you will be small or big. What matters is the active support from our donors to help us continue striving for excellence and providing a thriving entrepreneurial ecosystem at IIIT-Delhi.