We are currently accepting payments from Indian bank accounts only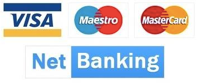 As you know, IIIT-Delhi is on the path of rendering its expertise in research, engineering and technology to elevate quality of life. Our faculty and students are addressing societal problems through innovative research work. The donations made under this category will foster the dynamic research environment of the institute and enable IIITDians to pursue ingenious research.
No amount of contribution by you will be small or big. What matters is the active support from our donors to help us continue striving for research excellence.